Social Media Packages and Prices
Everything you need to know about our social media packages and monthly costs
As with most things relating to digital marketing, when it comes to social media packages, there isn't a 'one size fits all' solution. There are so many options to consider. Which networks should you use? How often should you post? Should you use paid advertising to give your posts a boost? It can be tricky.
Our aim is to make choosing a social media package as easy as possible for businesses. We also want to ensure that each company we work with chooses exactly the right solution for them. To reflect this, we have three different options to help you choose the social media package that's right for you.
Get an Instant, On Screen Quote

1. 'Off the Shelf' Packages
We have included three options below. These are packages that we have seen work well for companies in a wide range of sectors and situations. We have also selected these based on where they fit in terms of monthly cost (as this is often an important factor). However, these packages aren't set in stone. They are intended to be starting points from which we can then further refine the packages to meet your needs.
2. Our Package Builder
We have to to spend a considerable amount of time building an online, interactive social media package builder that will give you an exact, on-screen quote for any package combination you select. As the name suggests, it will allow you to select the exact options you require and give you an instant price for that package. This ensures 100% transparency when it comes to how we build our social media packages, and how these social media packages are priced.
3. Concierge Service
If you'd rather, we put together some social media package options for you, we are very happy to do this. Simply use this application form to give us as much detail as possible about your company and what you're hoping to achieve. We'll then use our experience working with hundreds of companies on their social media, and which packages work best in which situations, to come up with a selection of options for you to choose from.

Our Social Media Package Builder
Choose from thousands of possible combinations

The way we have structured our social media packages and pricing has been designed to make it as flexible and adaptable as possible. We have adopted a 'modular' structure, which allows you to pick and choose the networks, the post frequency and any 'add-ons' that are relevant to you. This structure also allows you to easily add other services such as blog articles and paid advertising to your package, either now or at a later stage.
The packages above are some of our more popular packages. However, if you don't see exactly what you are looking for, simply use our interactive package builder tool and build your own bespoke package. This tool will give you an instant, on-screen quote and let you continue to tweak the package until you are completely happy.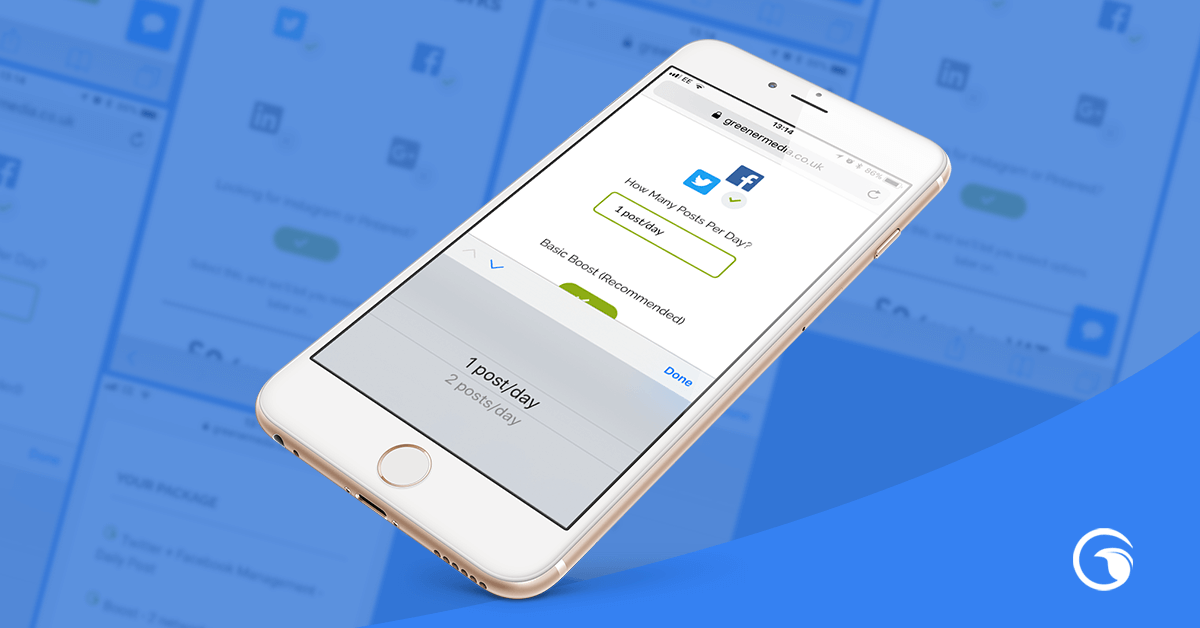 Frequently Asked Questions
Got questions about our Social Media Management Packages or pricing?

Got questions about how our social media packages work? Got a question about our social media pricing? Hopefully, we've provided all the answers you need below. If not, please feel free to contact us or schedule a call with our Content Director, Tom, so we can answer all your questions.
I don't see the options I'm looking for, can you build a bespoke social media package for us?

Yes, of course. We can build social media packages to suit all requirements. This includes any number of daily posts and any combination of networks. Also, if you have something specific you are looking for, perhaps a one-off campaign for an event, for example, we can help. Simply send us a message and we'll get right back to you with our proposed solutions.
Can you talk me through your packages on a call?

This is often the best way to move ahead. We actually have a system build specifically for this. We would join you on call, either on the phone or on a screen share (preferable). We would then go through all of our social media service options right there on the call and build your ideal social media package based on your specific requirements. We would then be able to send you a link to the exact social media package we built on the call so all you have to do is checkout.
Can we pay by credit card?

We want our social media packages to be as flexible as possible. This includes how you pay for them. We accept all major credit cards.
How does your pricing work? Can you build a package to meet our exact monthly budget?

Companies will often come to us with a specific monthly budget in mind. That's no problem at all. We have a pricing calculator that we can use to ensure that you get the very best package that exactly meets your proposed monthly budget. Our social media pricing is entirely transparent and flexible.
I'm not sure which networks we should use, can you advise us?

Absolutely. This is a very important decision. also, even if you do lots of research online, and look closely at what your competitors are doing, this won't necessarily give you the information you need. We have worked with companies in all major sectors. We have also seen how each major social media network performs for them. This is first hand knowledge based on very large data sets which we can use to advise you on the best networks to use for your business. If you'd like our input, you have three options.
If we go ahead with one of these packages, can we change it later?

Yes, of course. All our packages come with a cancel or change anytime policy. This means that you can add or remove any element of your package at any time. The control is always entirely in your hands.
If we want to go ahead with a social media package, what is the process?

If you have chosen your package and would like to get started, you simply need to go through the checkout process on our website to get started.

Once we receive your order, we will then send you an onboarding email. This will include a link to an online questionnaire that will allow you to give us all the information we need to begin planning your campaigns. Over the next couple of weeks, you will then receive a number of documents and designs from us. This will include a detailed content plan, social media graphics showcase, and previews of your first posts. you will be able to give feedback on any of these documents at any point. Exactly 10 working days after you submit the questionnaire back to us, you will see your first posts published on your social media accounts.
How will payment be processed?

We operate a number of payment systems which aim to cater to all our customer's requirements. These include direct debit, credit/debit card, and direct payments. However, if you would rather pay by another method, please let us know and we will try to accommodate you.
Can you take payment in USD, AUD or EUR?

Yes, we have recently introduced a system which will allow you to view all prices in either GBP, USD, EUR or AUD. You can also then checkout using our payment system using whichever currency you choose. There are no additional charges for this.

Interested?
Let us help…