---
Instagram Management Services
'Done-for-You' Instagram Management Services
Instagram usage has doubled in the last two years. Can you afford to miss out on this powerful visual marketing tool? Our 'done-for-you' Instagram management services mean that you don't have to!
They say a picture paints a thousand words. We will
create great looking posts and publish them on your
Instagram account every day.
We will build you a community of targeted followers –
not just anyone – to ensure your posts reach those who
are genuinely interested in your content.
We will fill your Instagram feed with creative visuals,
from custom images to inspiring content creation, we
will illustrate what your business does best
Instagram can be a great way to generate interest about
your products or services. When the questions come, we
will refer them on to you to follow up.
Have as much or as little input as you want. Too busy?
No problem. But when you have something you want to
post – just let us know!
Get an Instant, On Screen Quote

We offer two standard Instagram management packages. These are designed for individuals or businesses who want to have a strong and consistent presence on Instagram, and for every post they publish to represent them in exactly the right way. We do also offer a number of other bespoke options for companies or individuals who want to use Instagram in a more active or specific way. If you'd like to talk to us about your requirements, please don't hesitate to get in touch, and we'll be happy to put together a bespoke Instagram package for you.
---
You can also add additional social media networks or other marketing channels to your package. Simply use our free package builder to build your perfect Instagram package and get an instant, on-screen price.
---
---
Email
Send us a message and we'll get back to you within one working day (probably much sooner)
Schedule a Call
Choose a time for our Content Director, Tom, to call you to discuss your requirements.
---

Between 2016 and 2020, eMarketer predicts Instagram will add 26.9 million users – almost double the incremental users expected for Twitter, and far more than any other social platform tracked.
Hubspot
Engagement with brands on Instagram is 10 times higher than Facebook, 54 times higher than Pinterest, and 84 times higher than Twitter

---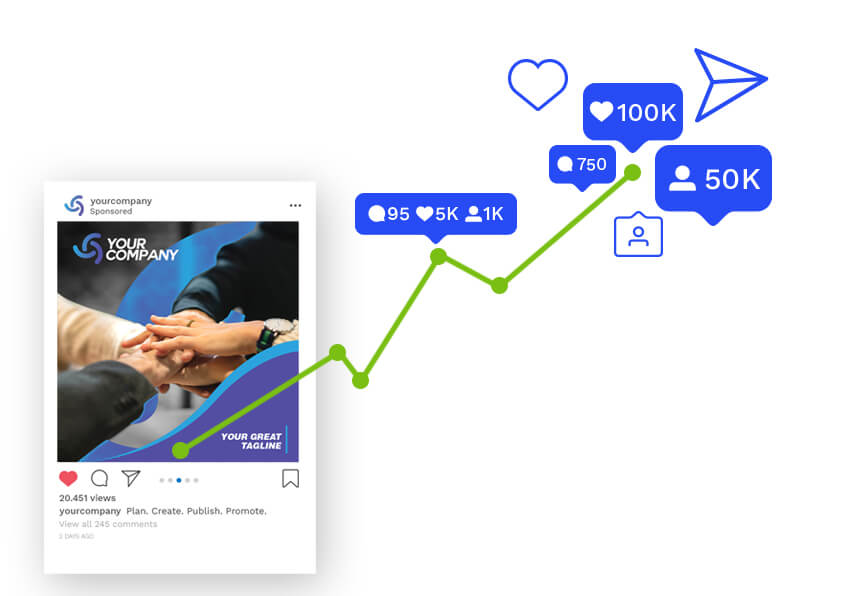 100% real and active followers
One of the most challenging aspects of Instagram is building targeted followers. Our talented team of Instagram experts will do this for you. We will actively build a community of engaged, loyal followers on your company's Instagram account that grows week by week.
A vital part of our Instagram management service is to ensure that month-on-month you see a consistent and dramatic increase in how many Instagram followers you have. If you want to know more about how we do this, feel free to ask.

The fastest growing social engagement platform
We provide engaging posts that create interest in your business
Instagram has the highest 'per user' engagement rate of all the major social networks, with the average engagement per post having grown by 416% over the last two years. What's more, 90 percent of Instagram users are younger than 35 so if your target demographics includes the 16-34 age group, you should strongly consider using the platform.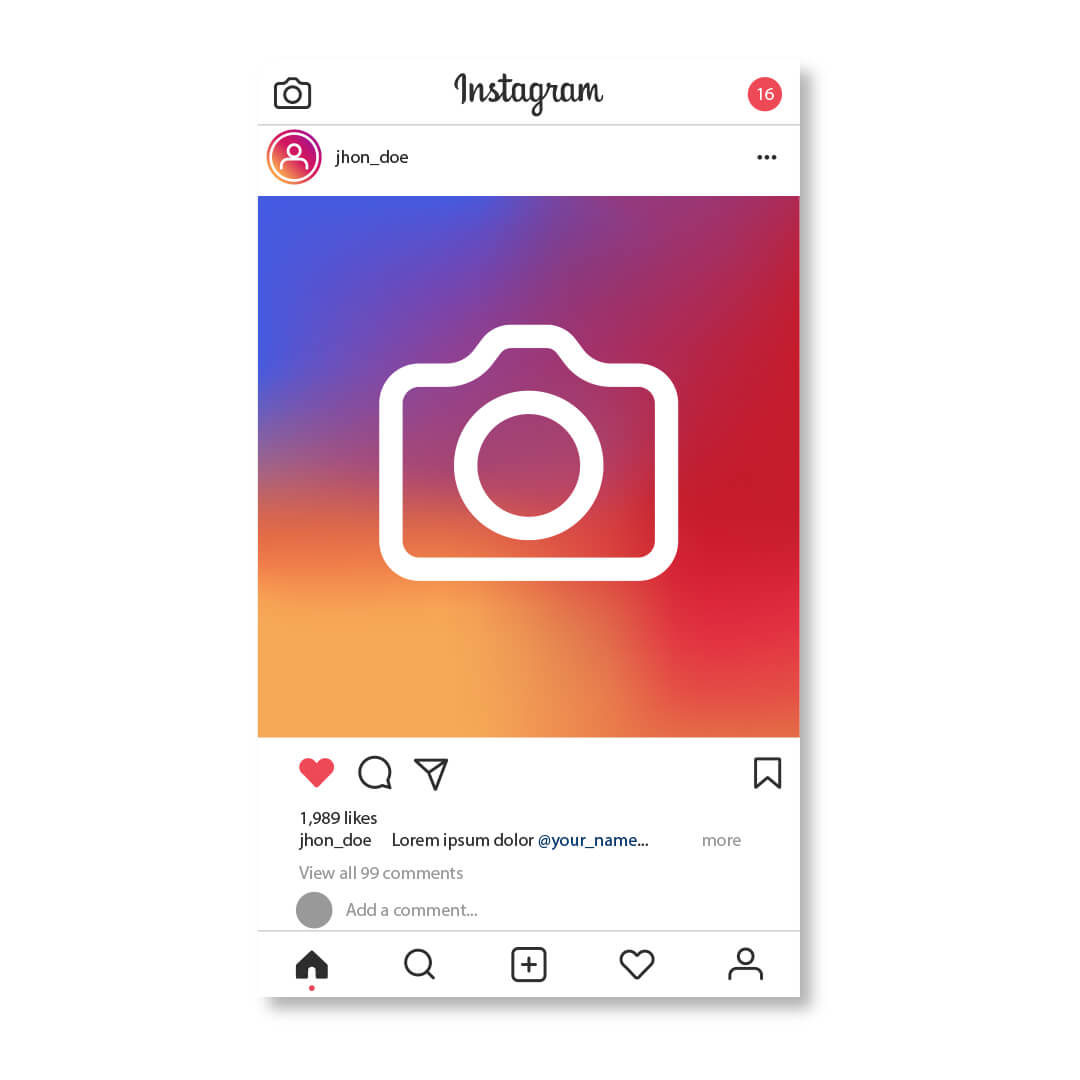 24/7 visual exposure
Have your Instagram account managed for you – 7 days a week
Instagram is part of 'the visual web'. This means that it focuses on images and videos (much like Pinterest). However, due to it's heavy use of hashtags, and its close links with Facebook, businesses can rapidly gain traction, exposure and reach by using Instagram well.
Our Instagram management services allow you to have a professional, engaging and effective Instagram account working 24/7 for your business.

Frequently Asked Questions
Got questions about our Instagram management services?
Is my business visual enough?

Sure, Instagram is all about the visuals. This does mean that non-visual companies need to give it a little more thought. Luckily, we're very good at finding what your audience finds interesting and engaging – and you'll be surprised. By getting creative with quotes, stats, infographics and aspects of your company culture that you might not share on other social networks, we can make ANY business interesting.
Do I have to provide images?

We can create and publish creative, professional posts on your company Instagram account. You don't have to do a thing…unless you want to of course!

Our Instagram management services are a 'done-for-you' service. This means that if you were to do nothing, it would still work. However, if you can work with us to give us up to date images that we can use, it will only make things better.
Why should we work with you over other Instagram marketing agencies?

Though we can't speak for other Instagram marketing agencies, we do feel we have a strong offering for small and medium sized businesses, and for influencers looking for a personal touch.

We're a small team focused on serving a relatively small number of clients in the best way we can – not growing as quickly as possible at the cost of our service. Our services offer very good value, and they are focused on high-quality content and followers that have real business value.
I sell a service, not a product – will Instagram still work for my business?

We have the specialist knowledge to make Instagram work for any business. Even if you can't provide any images, or don't know what to post, we can take care of all that for you. Whether you sell a product or provide a service, we are able to engage with your audience and create posts that they will find interesting and engaging.
I want to gain 10000+ followers each month, is your 'Growth' package suitable?

No, unfortunately not. It's really important to us that all our customers have realistic expectations for what their package will deliver for them. To gain this level of Instagram growth, you would require far more content, more manual engagement and a considerable ad spend (if you want those followers to be any good). We can absolutely help you with this, and would be happy to put together a bespoke package for you. However, it would not be covered by either of our 'off the shelf' packages. 
Will I be assigned a personal Instagram manager for my account?

Yes, you will be assigned an Instagram account manager. They will be responsible for coordinating your campaign and will be your main point of contact.
Are the followers real?

Yes, there's absolutely no point having followers unless they are 100% real and active. You're better off having 100 real, engaged followers than 10,000 inactive followers. The followers we build for you are all real people who 'choose' to follow you because of your posts – nothing else. These can be targeted using particular hashtags or other Instagram accounts. Please ask us for more info on this.
Can we still post to Instagram?

OF COURSE! We want you to. Our Instagram management services are designed to make sure that you have regular content going out on your account, and that your follower numbers maintain an upwards trajectory. We don't want to replace you! If you have something interesting to share, you can either send it to us to post or just post it yourself. It will only make it better.
Can you help us with Instagram ads?

Yes, absolutely. Though some of our core packages do include a small amount of Instagram ad spend, for companies wanting to use Instagram ads in a more aggressive way, we have other packages that will allow us to support you. For more information, please take a look at our Advertising Packages. 
Is your service better than other Instagram growth services?

There are a few ways that Instagram growth services will build followers for you. Most will operate a global network of accounts they either manage or have a relationship with. When you pay them, they will then get those accounts to follow your account. It's good for increasing your follower number, but none of them will ever do business with you.

Our service, will deliver a smaller number (500-2500 new followers per month) of real, high-quality followers who stand a good chance of one day doing business with you. We target based on geography, interest and sector. It works really well.
How many new Instagram followers should I expect?

This depends on a few factors (account age, content and current follower size), however, for most accounts we would expect them to see 500-1000 followers in month 1 and then a higher amount in months 2-6. If your Instagram account is brand new, these numbers may be slightly lower in the early stages of the campaign.  
Which Instagram management package is right for me?

This depends on many factors. The two key components are Instagram posts and our Instagram follower growth service. You are likely to want either of these, or both.

If you are at all unsure about anything to do with our Instagram services, or if you'd like some guidance as to which Instagram package is right for you, please feel free to schedule a call with our Content Director, Tom. He'll be more than happy to answer any questions you may have.

What makes us different to other companies?
As part of your research, you might have come across a few other companies who offer Instagram management services. So, why are we different? Why should you trust us with your Instagram account rather than these other Instagram management agencies?
Well, as with any marketing channel, our focus is always on the businesses we work with getting the greatest possible value from it. This means us having an in-depth understanding of how users interact with each platform and social network. In this respect, Instagram is unique. Unlike most channels, Instagram doesn't let you post links in your posts. This means that your focus needs to be on content consumption within the platform itself. If you can get potential customers interacting with your posts on a regular basis, they are far more likely to interact with your posts, click your links and buy from you when they see your business elsewhere on the internet. Our Instagram management services ALWAYS keep this in mind and, as a result, maximise our clients ROI from the platform.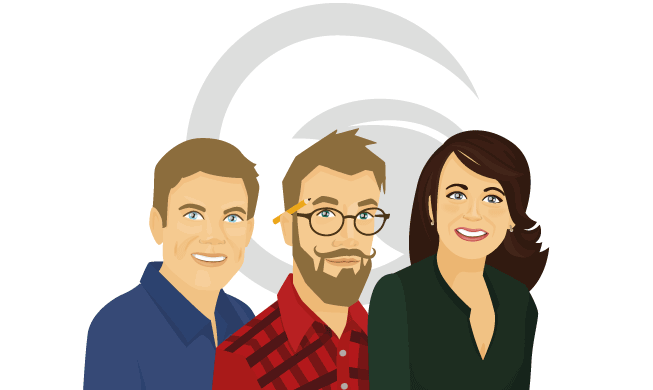 What Next?
Email
Send us a message and we'll get back to you within one working day (probably much sooner)
Schedule a Call
Choose a time for our Content Director, Tom, to call you to discuss your requirements.
Build a Package
Our interactive package builder will allow you to build your perfect package in just a few minutes.